Today's photos are from Carla Z. Mudry in Malvern, Pennsylvania.
I was part of my very first garden tour on June 24, The Hardy Plant Society Mid Atlantic Member Garden Tour.
Even when it was raining, they came. And they liked my garden! And they loved all of the birds we share the garden and woods with. During the early part of the tour we also had a doe drop off a fawn in the woods, but the fawn was not left alone for long given all of the humans wandering about.
Gardening is a very personal thing when you do it yourself, and although my husband thinks I am nutty, I just wasn't sure how people would receive my garden—how they would see it, versus how I see and have created it.
I am very appreciative of the people who came through, and I even got some helpful suggestions on things I wasn't sure about and an identification of the five-dollar mystery hydrangea from years ago at a grocery store. Her name is 'Blue Billow'.
It was so very special to have Jenny Rose Carey make room in her day to come see my garden after a long day and teaching a class at Longwood Gardens. She is one of my favorite people and garden influencers because of her books, lectures, and own spectacular Northview Gardens. Jenny's book Glorious Shade, much like David Culp's The Layered Garden, can be felt throughout my gardens, along with other influences.
Since the garden tour we have had crazy thunderstorms, so when it all dries out, I will be cleaning up the garden and continuing on!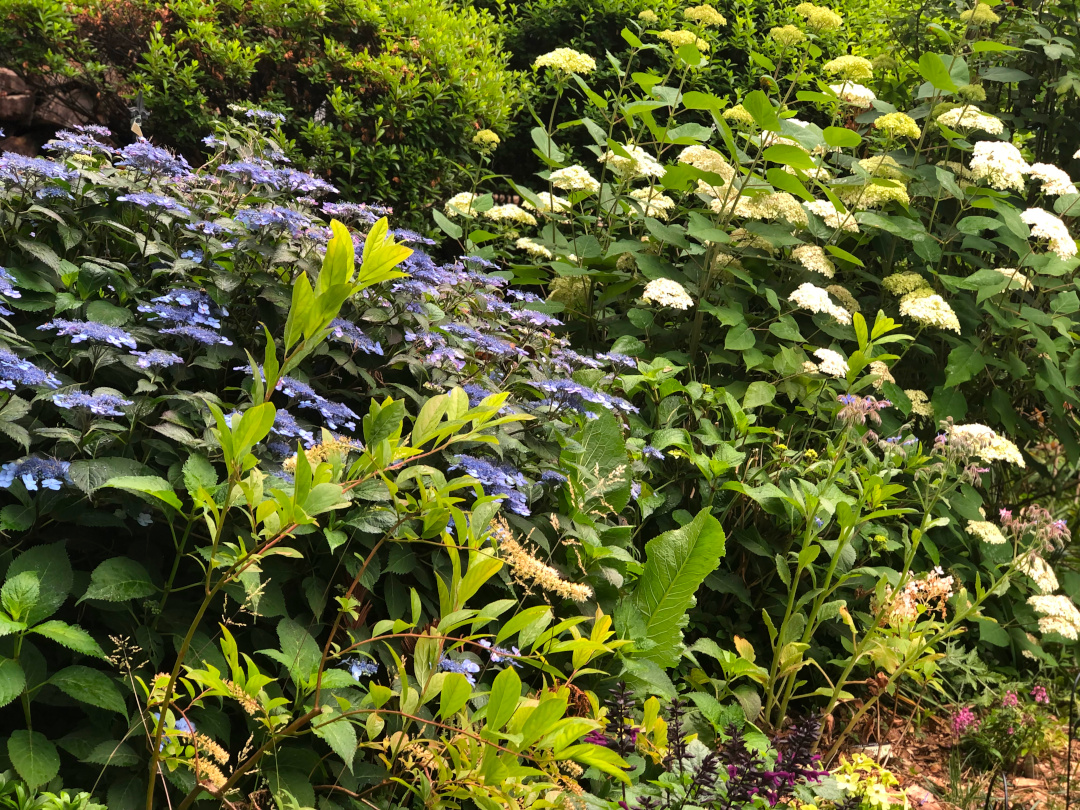 Hydrangeas—'Blue Billow' (Hydrangea macrophylla 'Blue Billow', Zones 5–9) to the left and smooth hydrangea (Hydrangea arborescens, Zones 3–9) to the right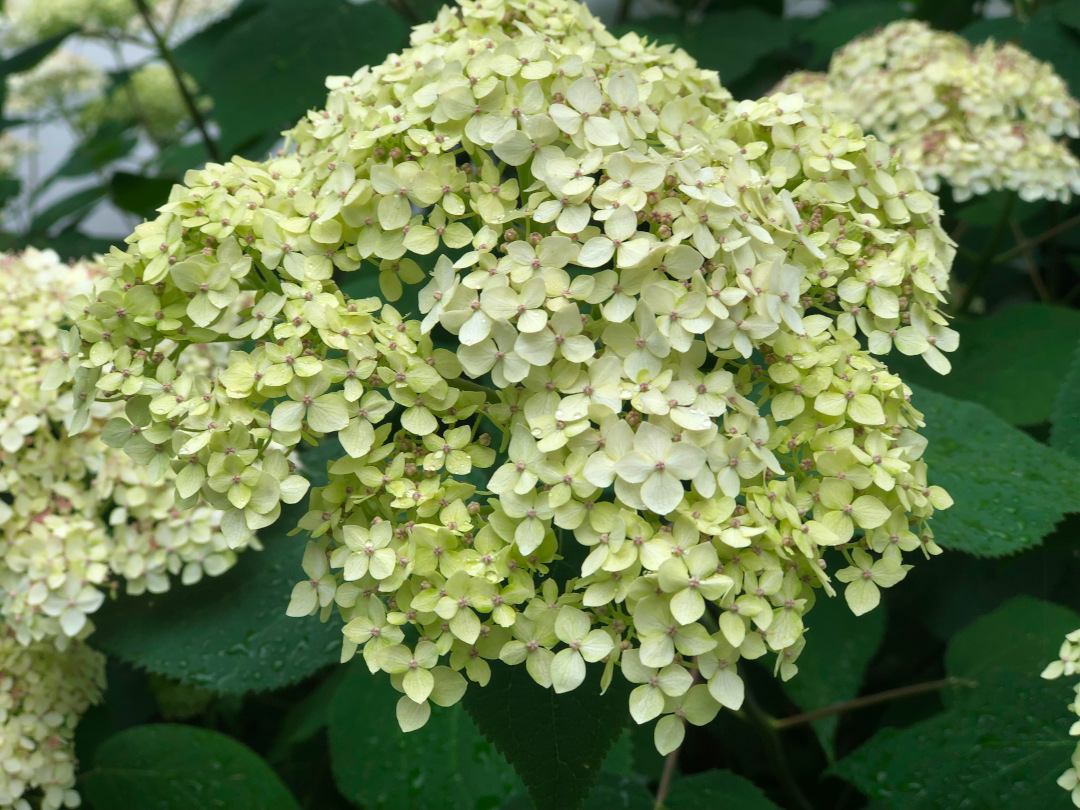 Closer look at the hydrangea flowers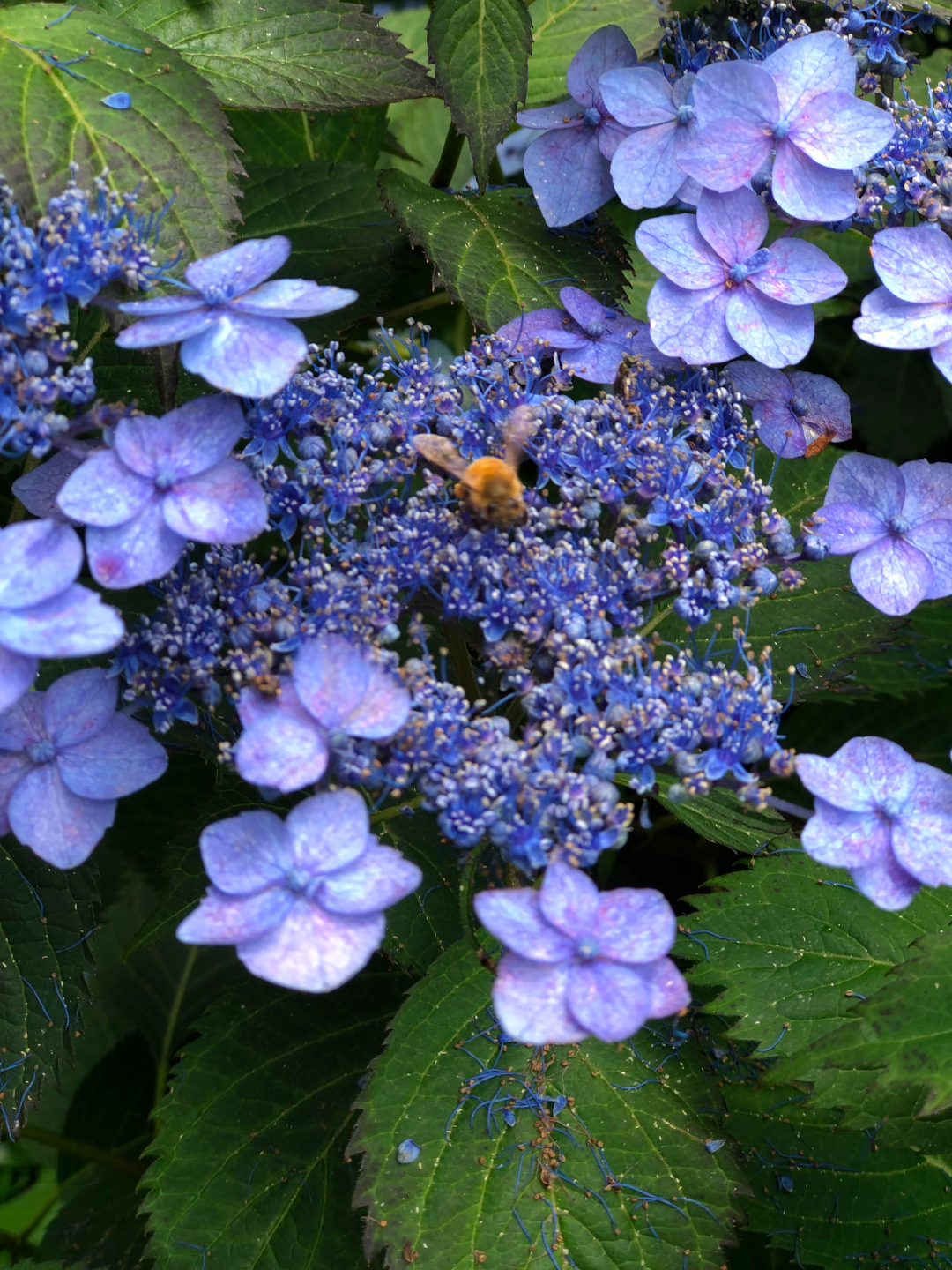 A pollinator visitor enjoys the hydrangea flowers.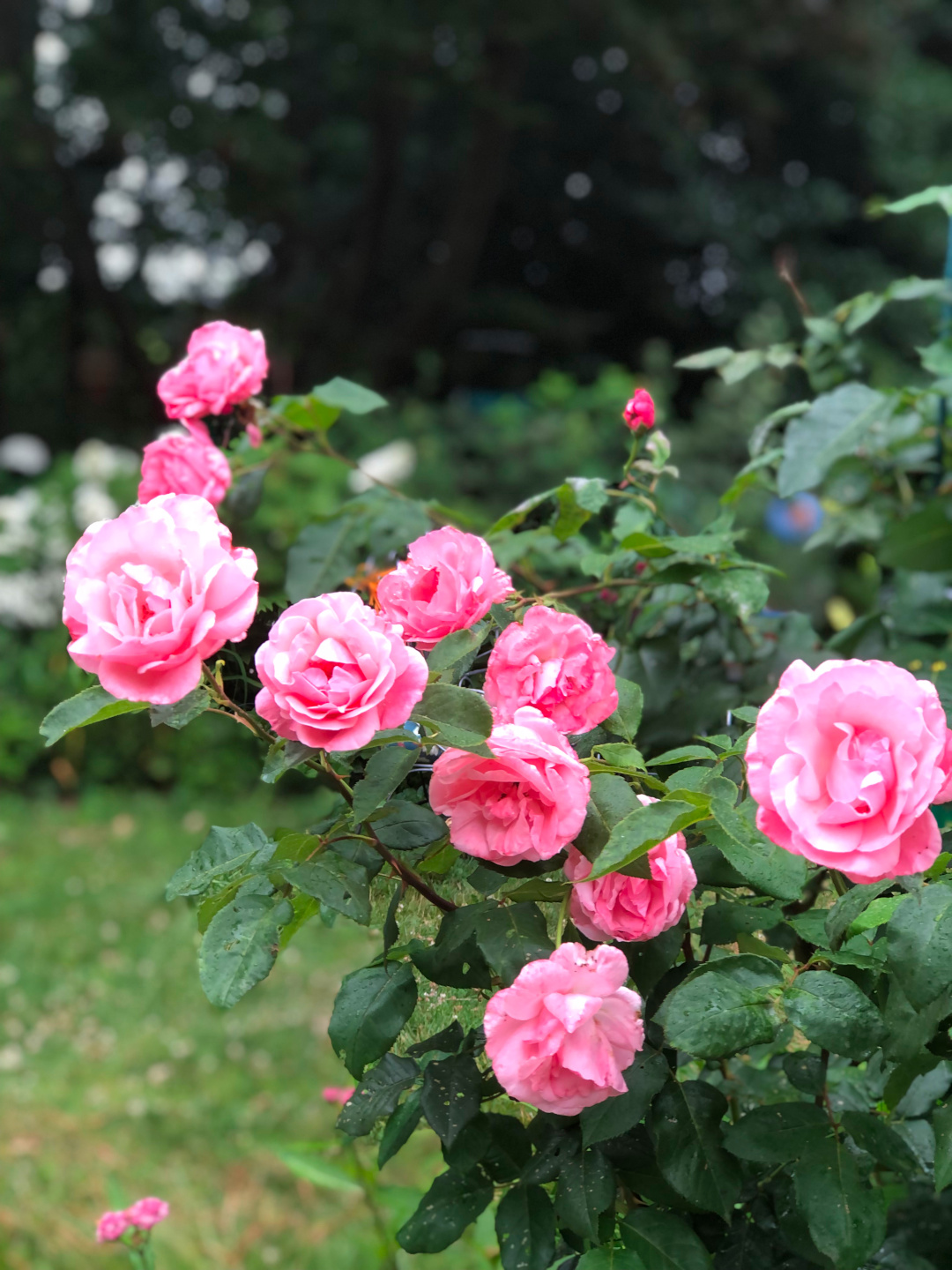 A magical highlight of the June garden is roses.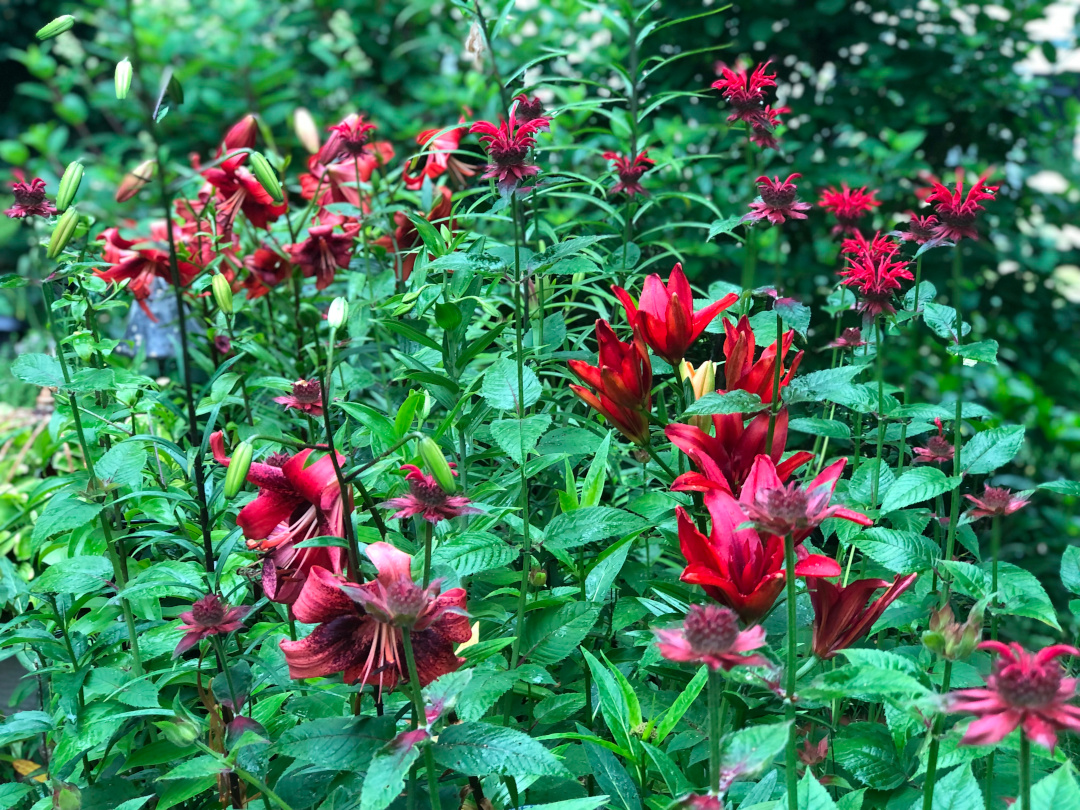 Lilies (Lilium hybrids, Zones 4–9) and bee balm (Monarda didyma, Zones 3–8) bloom together in a study in red.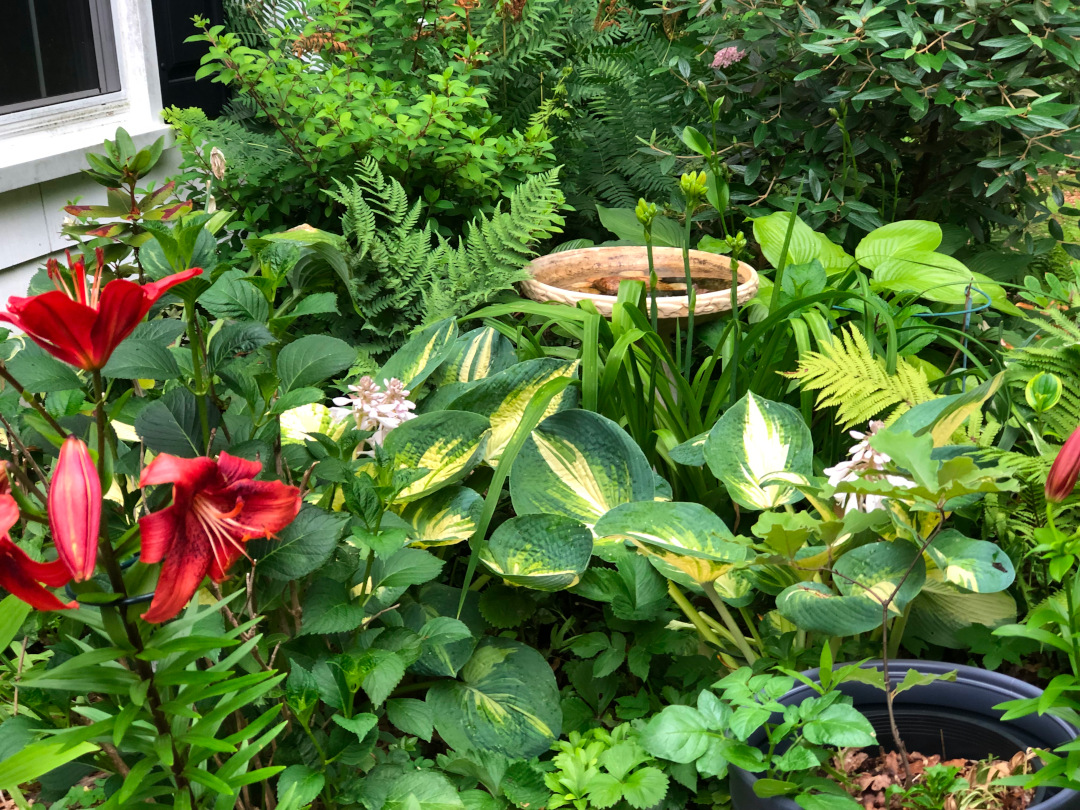 Lilies provide a pop of color against a tapestry of greens.
A beautiful birdbath fronts some wonderful foliage. A dark, cut-leaf Japanese maple (Acer palmatum, Zones 5–9) contrasts beautifully with the 'Sun King' aralia (Aralia cordata 'Sun King', Zones 4–9)
In this shade garden, mixing foliage of different colors, sizes, and textures makes this space dynamic and beautiful.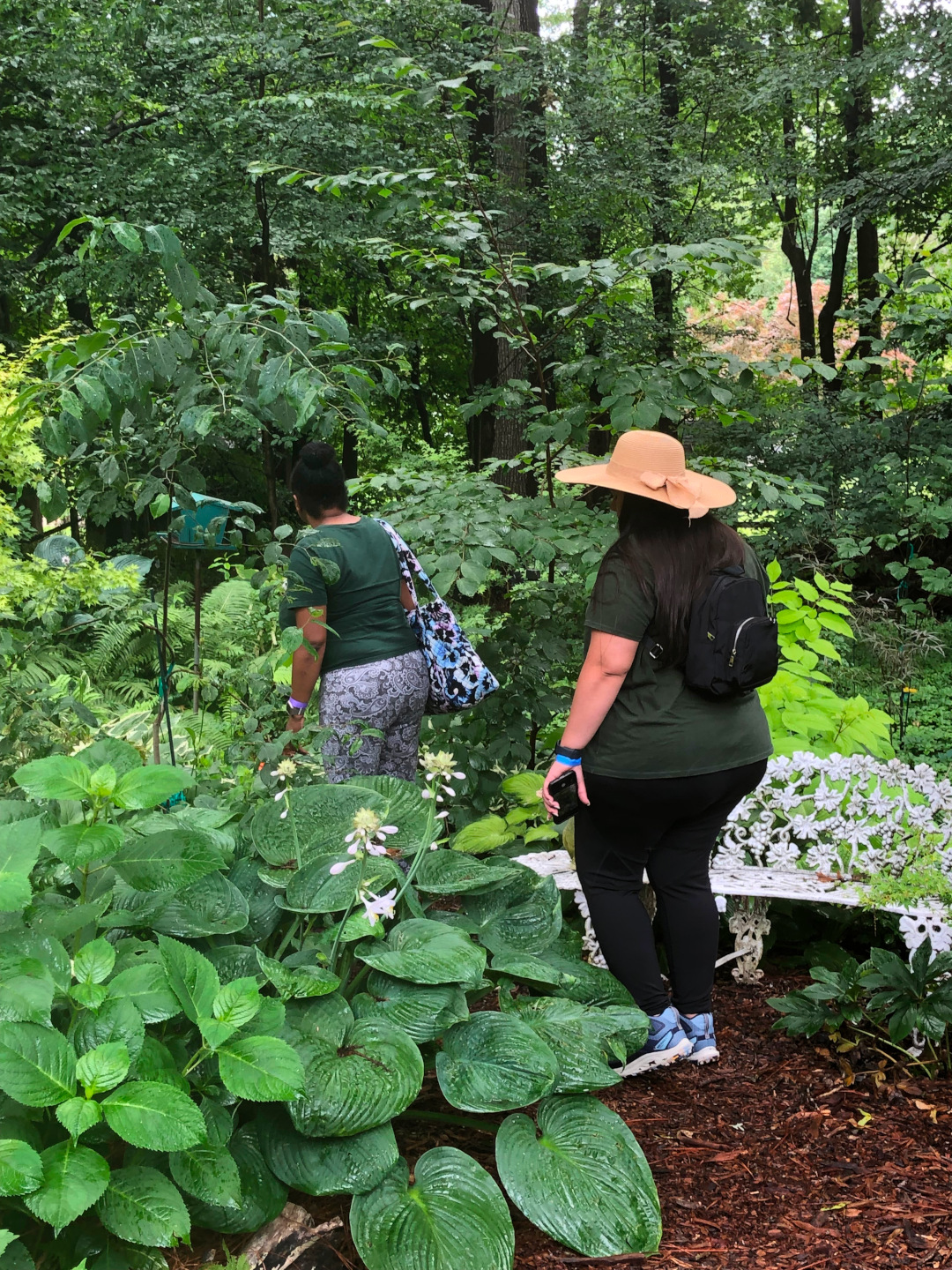 Visitors tour the garden.
Have a garden you'd like to share?
Have photos to share? We'd love to see your garden, a particular collection of plants you love, or a wonderful garden you had the chance to visit!
To submit, send 5-10 photos to [email protected] along with some information about the plants in the pictures and where you took the photos. We'd love to hear where you are located, how long you've been gardening, successes you are proud of, failures you learned from, hopes for the future, favorite plants, or funny stories from your garden.
Have a mobile phone? Tag your photos on Facebook, Instagram or Twitter with #FineGardening!
Do you receive the GPOD by email yet? Sign up here.